Get to know us
Profile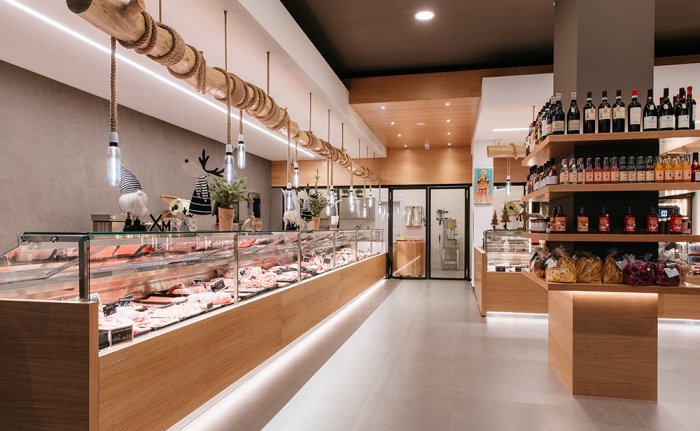 The company Mpimpasi Anastasia IKE has been active in the meat sector in the region of Pirus since 1990, with Ioannis Bibasi as the forerunner and then his daughter Anastasia. Now we come to the current era through all the adversities prevailing in our brand new store to turn the tables and create a network of customers in the city of Ioannina and beyond.
Mpimpasi Premium Meat & Delicatessen has left the best impressions in the area and at the same time has won the respect and appreciation of every customer and supplier. Our goal is for customers to enjoy the best service through a huge range of meat products and at the same time through a very well structured and informed store staff. The wide and special variety of meats will satisfy even your most demanding tastes and desires.
The selection of certified breeding units and suppliers is made under strict criteria in order to ensure the best quality of meats. Thus, beef and veal are selected from Greek and French farms, as well as from farms in North, South America, Australia, etc. We choose Greek pork because in the Region of Epirus there is a tradition of raising pigs since the early 1970s, mainly from the area of Phillipias. We thus ensure the excellent quality of the pork we serve you. Also, the selection of lamb and poultry is made from the Greek countryside, specifically from the wider area of Ioannina, which is why the quality is excellent.
At every stage of processing and preservation, strict and continuous supervision by meat connoisseurs, know-how and perfect technological equipment play an important role. Meat emerges as a product of maximum nutritional value and takes its rightful place on your table. Combined with strict supervision and personal scrutiny during the selection stage of the best breeds, we manage to ensure fine meats of high nutritional value, excellent quality and excellent hygiene.
It is important to mention that our company, in its modern facilities, implements a specialized food management system according to ISO & HACCP. In addition, the excellent quality is ensured through our collaboration with a specialist scientist, Food Technologist.